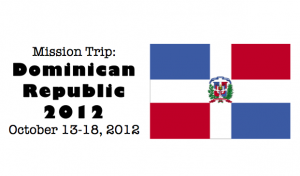 Providence Church is focused on carrying on Jesus' mission, which has been commissioned to all believers in the Great Commission. This requires that Great Commission churches and Christians partner with other churches and missionaries to bring the gospel and plant new churches around the world. Our objective on this trip is to cooperate with International Mission Board missionaries Carlos and Liliana Llambes in fulfilling this purpose together.
Target: Santo Domingo, D.R.
The Dominican Republic occupies the eastern two-thirds of the island of Hispaniola, shared with Haiti. The population is 10,225,482. Santo Domingo is the nation's capital. The Llambes have been working to plant Spanish and Haitian churches there since 2006.
Our Team of Eight:
Kelly & Alexandra, and their two sons, Nelson (12), and Luke (10)
Pastor Shawn, and his two daughters, Cassidy (11), and Caris (8)
Bart
Ministry Menu:
Prayer walking and evangelism; providing doctrinal and leadership training for pastors in the D.R.; participating in outreach events; encouraging and supporting existing churches (i.e. sharing testimonies); baseball clinic for the children.
Financial Goal for the Team: $7,200.00 ($900.00 per person)
These costs include:
all travel expenses, including to and from the island.
all food expenses, including the days of travel.
lodging expenses
port taxes, tolls, airport parking
this also include misc. expenses for various ministry resources and expenses
Donations are tax deductible. Any extra funds received for a group member above their goal will be shared evenly with the remainder of the group still raising funds. Donations can be made online (make a donation online) or by check. Write checks to "Providence Church" and place in the memo line "DR Trip 2012." Checks can be mailed to 5471 Lee Street, Unit 103, Lehigh Acres, FL 33971.
Prayer Concerns for the Trip:
Pray for the Team's preparation leading up the trip.
Pray "that God may open to us a door for the word, to declare the mystery of Christ" in a very clear manner (Col. 4:3).
Pray for the four children on the team, these "young missionaries," that God would use this trip powerfully in their lives.
Pray for the costs of the trip to be raised, that God would provide financially through His people.
More Info About the D. R.:
Religious Climate of the D.R.
According to the latest studies, nearly 94% of the population in the D.R. claims to be Christian. But according to Operation World, "The term embraces all traditions and confessions of Christianity. It is no indicator of the degree of commitment or theological orthodoxy."
Only about 9% of the population considers themselves Evangelicals.
This means, "All who emphasize and adhere to all four of the following:
Jesus as the sole source of salvation through faith in Him.
Personal faith and conversion with regeneration by the Holy Spirit. 
Recognition of the inspired Word as the ultimate basis and authority for life. 
Commitment to biblical witness, evangelism and mission that brings others to faith. 
This is a theological and not an experiential definition. It does not mean that all evangelicals as defined above are actually born-again. In many nations, only 10-40% of evangelicals so defined may have had a valid conversion and regularly attend church services. However, it does show how many people align themselves with churches where the gospel is being proclaimed as such."
**Geographic and demographic material came from Information © 2012 Operation World.